As a strong advocate for work-life balance and ensuring women have supportive work environments to help balance the challenges of parenthood, many of you may have wondered how I've been fairing during COVID-19 and my thoughts on the challenges faced for women in our sector.
Let's be honest, there is no balance in work and life amongst COVID-19, this has been made abundantly clear by many as parents navigate the challenges of working from home. On the bright side, it's led to hilarious zoom calls. It's also led to extreme burnout.
Why am I talking about this now though? We all know this, it's a challenge we are all too familiar with. Well, many have reached out to ask how I am managing.
I am not.
These last few months have been incredibly chaotic, overwhelming, challenging, and also amazingly freeing. In the last few months, amongst all the COVID challenges, my family welcomed our third child (and first girl!) baby Lauren.
I realized leading in to welcoming a new baby, that I would need to let go to make room for snuggles, diaper changes, and self care to recover from sleepless nights.
What I didn't see coming was COVID and how that would also impact my work-life balance, more than ever I needed to make room on my plate for family, but also for my clients, who like many non-profits right now are faced with enormous challenges. I needed to be able to lean into these priorities.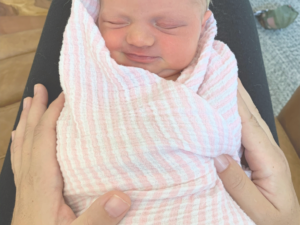 So I let go…I let go of things that took up headspace, time, and resources. I quickly stepped away from social media and networking (and I know how important these tools are for professional and personal growth as well as business development). I let go of my volunteer commitments (which was very upsetting, but I knew I could not spread myself that thin).
I let go of everything that I felt I "needed" to be doing, and simply focused on what I HAD to do – I needed to deliver for my family, my clients, and myself.
Although I have missed connecting with peers, engaging in great Twitter conversations, and expanding my network with like-minded people, I knew this was the right decision. I also realized I missed some extremely important conversations, from the WE Charity Scandal, to the social injustices being faced by many as we push the critical conversation of #blacklivesmatter forward.
I want to share with you the top three skills I needed to let go (because it was hard), but if you need a bit of space in this chaotic world, let go for a day, a week, a month – however much time you need.
Trust: Trust that others in our sector can push conversations forward. The great thing about our sector is that it is filled with so many individuals dedicated to improving social justice and giving voices to many causes. I know my voice, like all of ours, is important, but I knew conversations would continue to move forward.
Gratitude: Being grateful that I was able to create this space and let go of things allowed the decision to let go be much easier. At this time of my life, I was extremely grateful for all of the strong relationships I had built with peers and colleagues would continue and my connections in the sector would understand why I stepped away for a brief period of time.
Discipline: It took some time and discipline to truly disconnected from social media and networking as part of letting go, but once I became disciplined about it, I was able to find time and focus to complete the work that needed to be done – caring for my growing family and making sure my clients were continuing to excel in this COVID-changed fundraising landscape.
As I write this post, my new addition is curled up on my chest and I'm excited but worried about my "return" to networking and social media. I'm excited to engage in new conversations but will continue to focus on my family and clients, making sure I have the headspace and time I need for my top priorities.
If you want to chat more about how you can find space in your schedule and how you can let go please reach out to me.