Have you ever wondered how much addressing and preventing burnout could help your organization?
Dr. Emily Bennett (She/Her/Hers) is a consultant, coach, and the CEO of Kindling, which develops strategic plans for staff wellbeing in nonprofit and social service organizations. In addition to this work, she volunteers as the Secretary of the Board at One City Peterborough and as a member of their workplace wellness committee. Emily is a parent of two sweet kiddos and one giant husky/shepherd named Otto.
I met Emily through a fellow Balanced Good-er and we bonded over managing continual sick days, our passion for protecting and supporting those in the non-profit sector, and our notion that we know the sector CAN do better.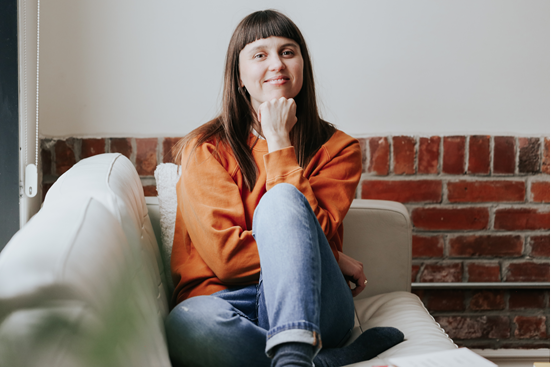 I recently had the amazing opportunity to discuss burnout and balance with Emily with Peterborough and Area Fundraisers' Network (PAFN). In case you missed the talk or wanted a little more, this following conversation is full of key messages and lessons for those looking to reduce the risk of burnout.
Pull out your pen and notebook or pull up a sticky note! Here are some great tips on how to prevent burnout in your organization.
1. Briefly tell me about a day in the life of Emily Bennett:
The day starts with a 4- & 6-year-old hopping into our bed because it's 6 AM and they are early risers. My morning is dominated by family stuff: we eat breakfast together, get ready, make lunches, and then I sneak out the door around 7 AM for a walk with our dog, Otto. My work week is split between 1-on-1 support for patients who are struggling with the health impacts of burnout and consulting with nonprofit organizations on creating strategic plans for staff wellbeing. We focus on preventing burnout rather than dealing with it after the fact. On days where I'm not working 1-on-1 with people, I start with about 15 minutes of checking and responding to emails before I turn off notifications (hot tip!) and move to focused work. Mornings are my best time for focused work. I do what I can to keep this time meeting-free to make the most of it.
2. I love your wholistic, health-based approach to navigating and recovering from burnout. How did you get from discovering "naturopathy as a unique whole-system approach" to coaching and consulting with leaders in the non-profit sector? 
I spent my university years as an activist dedicated to a particular cause; I led student groups, spoke at rallies, attended political dinners in Ottawa and became executive director of a (very) small nonprofit while still doing my undergraduate degree. I would work all night, run entirely on adrenaline and urgency, and promptly burnt out after 3.5 years of that. I abandoned the cause and felt like a massive failure.
I found myself struggling with my health and received a diagnosis that ended up changing my career trajectory. I saw a naturopathic doctor for the first time. I decided the system of medicine aimed at getting to the root cause of a situation and one that takes a preventative approach to chronic health concerns was where I wanted to focus my life. Because of my community, my practice was full of social workers, organizers, educators and other people with a similar story to mine – it was a dream job to help them find wellbeing and balance while they engaged in their very important and difficult work.
In early 2020 I noticed a trend among my patients that made me feel like I wasn't quite getting to the root cause of their concerns. Within a span of six months, I saw patient after patient go from taking a stress-leave to realizing the work was the problem and quitting their jobs. Folks who had been extremely purpose-driven and dedicated to their work, were leaving it behind when they realized the workplace itself was why they were sick.
I began my never-ending, deep dive into the evidence for burnout as a workplace phenomenon – not an individual medical diagnosis. I designed an approach to assess the factors that leave an organization vulnerable to worker burnout and a method for strategically supporting staff wellbeing.
3. We've connected before on the notion that we know the non-profit sector CAN do better. How do you think building out strategic approaches to protect ourselves from burnout will better the sector? And why is this important now? 
The progressive dissatisfaction of employees in their relationship with work leads to an increase in the rate of turnover and right now we're seeing it at a much higher rate than pre-pandemic. The cost of turnover can be hard to quantify, but direct financial costs are estimated to be at least 20% of the annual salary for an employee earning between $30,000-50,000/year. This doesn't begin to consider the indirect costs associated with job search, recruitment, training and lost productivity by those involved in hiring. In a 2017 article by Charity Village, a senior VP of human resources at the YMCA of Greater Toronto said she doubled the employee's annual salary to find the true cost of turnover to the organization. So, in short – it's expensive. And it takes people away from the work they really need to be doing.
On top of that, the loss of mentors in the workplace can exacerbate problems mostly because new employees are then left to figure out on their own how to balance the passion they bring to a new purpose-driven job with the challenges they may need to face. We also have research available from leading psychologists who were instrumental in the initial research of burnout. They assessed that an employee's level of experienced burnout can directly predict how a client evaluates the quality of service and how an employee evaluates their organization.
4. In your recent Instagram post referencing the 'real causes of burnout' you mention 'Burnout requires a workplace-based solution… needs be addressed strategically with a vision for the long term… [and] requires full on culture change'. What is the top piece of advice you would offer a small fundraising shop looking to build a workplace-based solution to reduce the risk of burnout for their employees? 
Recognizing people for the work they're doing goes a very long way to reduce the risk of burnout. For almost every organization, that's a great place to start.
5. In your opinion, what are the top three things our sector can do to foster a work culture that 
support workers' health and reduces the risk of burnout? 
Invest in training your managers and supervisors so that they have the tools they need to support frontline workers.
Lead with vulnerability.
Recognize people for the great work they're doing.
And, I hope it goes without saying, pay workers a living wage.
6. What is on your current reading list?
Thanks For The Feedback by Shelia Heen and Douglas Stone
A World Without Email by Cal Newport
7. When you manage to find a few moments for yourself, what is your go to self-care activity?  
My go-to self-care activities are rock climbing with friends, cross-country skiing, and reading novels 🙂
8. Are there any further comments or notes you would like me to include? 
Interested readers should check out my FREE guide where I share 5 straightforward, tried and tested ways to get your work done even when you're overwhelmed and burnt out. It's a great place to start. Download it here.
I hope you spent the last few minutes nodding your head in agreement while reading this — I know I was all head nods when chatting with Emily. Emily and I will be live on Instagram on February 6th to discuss this topic further. In addition, you can reach out to Emily via LinkedIn, Instagram, and by email.
Stay tuned as we have a few more great conversations lined up for the coming weeks. Have an idea for a post? Or do you want to be featured? Reach out to me (Lacey) today, I'd love to hear from you.